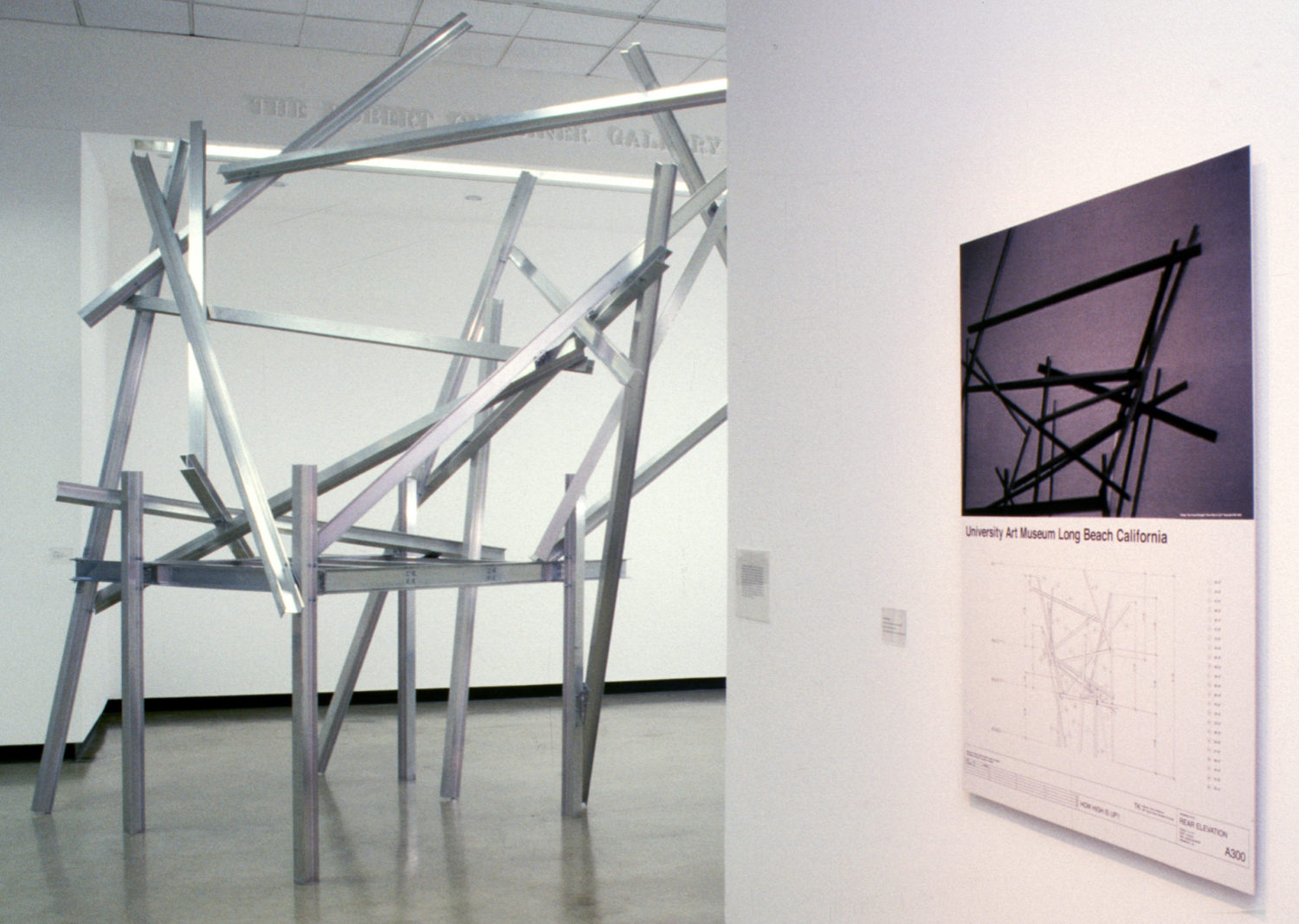 ReModeling
The University Art Museum of Long Beach, CA
Curated by Mary-Kay Lombino
Participating artists; Leo Berk, Taft Green, Barbara Bestor, David Schafer
Excerpted from Mary-Kay Lombino's essay A Model Experience.

The title How High is Up? is borrowed from a 1940 episode of the classic program The Three Stooges, which inspired Schafer to perform an in-depth analysis of one particular image. The Stooges, when hired as builders, are visited by the foreman who discovers that they have botched the job. The blunder, a structure made of I-beams pointing in various directions rather than at rational right angles, is shown full-screen as the punch line of a pure slapstick moment. However, Schafer notes that in a different context, the same image could be seen as an expression of Deconstructivist architecture, which introduced a spirit of ad-hoc-ism to the field in the 1980s. In fact, the Stooges' object resembles elements of the Santa Monica house Frank Gehry designed for himself 1978, known for its deliberately slanted lines and randomly angled protrusions, an now considered a forerunner of a movement that favored anti-refinement. Schafer purposes that while in 1940—a time when elegant, Meisian perfection was becoming mainstream—the Stooges were considered imbeciles; forty years later they might have been considered visionaries. In order to make this point visually, Schafer translates the flat image from his TV screen into a fifteen-foot gleaming abstract sculpture and presents it in the context of the art museum. Schafer's speculative sculpture, built at one-quarter scale, is two generations away from the original object that was no-doubt created for The Three Stooges set, purely for the purpose of comedic entertainment.
Further removing the structure from its' humorous origins, Schafer presents three computer renderings of his sculpture in detail, showing it again on a flat surface. These close-ups highlight the similarities of the piece to Modernist abstract work by artists such as Mark di Suvero and Anthony Caro, who are accomplished in combining industrial materials to create elegant monumental sculptures with raw energy. In this context, the image is elevated from the status of a comic eyesore in to an object that has no utilitarian function other than as an aesthetic achievement. Schafer also presents a poster that reveals the original source image along with a computer-generated, rear-elevation drawing at full scale, which he commissioned from TK Architecture, an experimental firm based in Los Angeles. Such drawings are used by architects to communicate specifications to the builders who handle the construction of a project. The detailed, computer-assisted drawing, complete with the architect's customary annotations and labels, lends a practical application and a more authoritative expertise to the irrational tangle of beams. By utilizing the logic and methods of architecture in his work, Schafer adds a layer of rationality to an object that was first created to illustrate human error. This juxtaposition allows us to rethink our habits of seeing and reconsider that way we perceive our surroundings in order to gain new insight from what we think of as the familiar.